NESL e-UDBHAVAM Portal | Online Registration | Login | Objective & Benefits
|| e-UDBHAVAM Portal | National E-Governance Service Limited [NESL] e-UDBHAVAM Portal | Karnataka e-UDBHAVAM Portal Online Registration || The e-UDBHAVAM Portal has been launched by the Government of Karnataka to provide online facility and digital campaign to the people of the state. Through which the process of obtaining notary services for various documentation including agreements and contracts will be simplified. This will enable the users to execute their agreements formally and efficiently. How to get the benefit of this portal and how to apply under it. To get all this information, you have to read this article till the end. So let's know about the e-UDBHAVAM Portal.
NESL e-UDBHAVAM Portal
NESL popularly known as National e-Governance Service Limited. Which is India's first information utility. It is registered with the Insolvency and Bankruptcy Board of India under the supervision of the Insolvency and Bankruptcy Code, 2016 (IBC). To ease the process of such notary services, e-UDBHAVAM portal has been started. This portal will help to work under Nay Disha for process of obtaining notary businesses for various types of paperwork, agreements and contracts. Due to which the whole process will be made easy and convenient. All the works will be digitized and paperless, so that the benefits of services can be provided online to the people.
Key Aspects of e-UDBHAVAM Portal
The newly established NESL in Bengaluru has launched a new web portal known as e-UDBHAVAM Portal.
The process of obtaining notary businesses for different types of paperwork, complete with agreements and contracts, is about to become simpler with the launch of a new government webpage.
People require notary services for various types of paperwork, which can be difficult to obtain as only notaries, gazetted officers, etc. are allowed to do notaries. In addition, it also includes any additional fees that a notary or justice of the peace may demand. Many a times people forget important documents during agreements. NESL has launched e-UDBHAVAM Portal, a website where people and businesses in Karnataka can sign agreements and papers that do not need to be registered. To overcome many problems, this portal will give so many benefits.
Overview Of the NESL e-UDBHAVAM Portal
| | |
| --- | --- |
| Name Of the Portal | NESL e-UDBHAVAM Portal |
| By Whom Initiated done | By the Government of Karnataka |
| Beneficiary | Citizens of the State |
| Assistance to be Provided | Facilitating the process of signing, verification and execution of all documents relating to any documents or agreements required in business |
| Application Process | |
| Official Website | nesl.co.in |
Objective Of the e-UDBHAVAM Portal
The main objective of the NESL e-Udbhav portal is to make the process of signing, verification and execution of all documents related to any document or agreement required in business more convenient.
Benefits Of the NESL e-UDBHAVAM Portal
NESL has come up with a solution called e-UDBHAVAM Portal for those who want to do business and which has several benefits:

It makes proportional citizen, business and online agreements, which are executed authentically.

Under this portal, hassles are removed for citizens by providing solutions for documentation and contracting processes in various departments.

Through this portal, the applicant will not need to pay additional fees as before in the official departments.

The e-UDBHAVAM site also allows digital payment for stamp duty using the digital e-stamping environment provided by NESL.

The entire journey of official stamp papers and required documents has been reduced to paperless work by digitizing all the work on the Portal. Which is also called paperless platform.

Using Aadhaar's e-Sign facility, all parties to an agreement will be able to view and sign the agreement from the comfort of their offices or homes, without having to meet in person or any government official.

The Platform allows entities and individuals to execute contracts from anywhere at any time.
Several official documents can be executed through e-UDBHAVAM Portal
Agreement: There is an agreement between every promise and every set of promises, which together constitute a consideration for each other. Examples include service agreements, lease agreements, worker and company contracts, etc.
Affidavit: A written statement that you swear to be true and that can be used as evidence in a legal proceeding, also known as an affidavit/affidavit statement. Common examples can include matters such as change of name of a person or marriage related documents such as divorce settlement.
Hypothecation: Hypothecation Deed When a loan is given to buy something that can be transferred, a deed is used to levy a fee on the item as security for the loan. Such as property loans, or automobile loans.
Indemnity bond: This is a legal document that gives you the right to receive money from the principal in case something goes wrong, such as you borrow money from a bank or give property to the rightful owners.

Pledge

: Common example is putting gold in a bank to get a loan.
Important Documents
Aadhar card

Permanent certificate

E-mail ID

PAN/EPIC information

Mobile Number

Financial Value of Agreement Amount of Stamp Duty Payable
Procedure to apply on NESL e-UDBHAVAM Portal (Registration)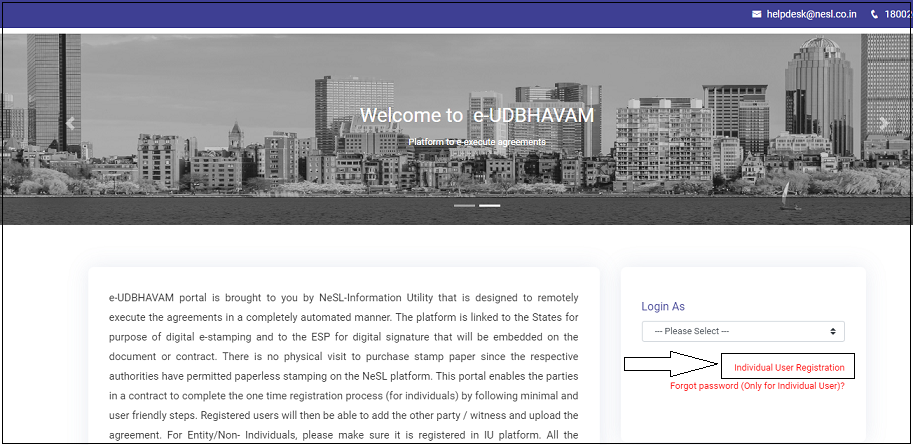 Now you will be

redirected to a new page.

A new registration will be completed in 4
First Step– New User Registration
On the registration page you have to enter your mobile number and email id.

Then you have to choose your KYC ID, which can be your PAN card or Voter ID. After selecting them, you have to type the ID number of that card.

Then you have to type the password and re-enter the same password.

All Terms and Conditions are subject to this. Now you have to click on the next button.
Second Step– User KYC
Using the first step you have to do the KYC with the Aadhar upload document in the next step.
Third Step – Face Auth
For activities based on face authentication, the user's Aadhaar photo will be compared with his/her live photo to provide an additional layer of verification and prevent fraud. For which he has to confirm his face in the next step.
Forth Step – Confirm KYC Details
All the details entered by you will be displayed on the screen

Now you have to check all the details filled.

After this you have to click on submit button.

After submission you will be shown an acknowledgment. which you have to download.
How to Login
First of all you have to go to the official website. 
Now you have to go to the

Login section.
Here you have to

click on any one option in Entity User or Individual User.
Now the

Login Form

will open in front of you.
In this form you have to

login by entering User Name / Password / Capcha code.

By following this process you will be login to the portal.
Documentation Adding and Stamp Obligation
First of all you have to go to the official website. 
After that you have to

click on Login option. Now you have to login by entering User Name / Password / Capcha code.

You will now see 3 options – Execute New Contract, View Transaction History and View All Pending Contracts. Here you have to choose the option according to your convenience and click on the next button.

Then you have to

click on the state of "Karnataka".

Now select the type of document to be uploaded, it should not be more than

5 MB in size.

After that, click on

"Verify" button

and proceed further.
Now the username will be shown. After that you have to click on the

submit button.

Apart from this, fine details of each of the parties involved will be shown. A preview of the settlement terms will be given, and then the first party will continue with the payment of the stamp requirement through the cost gateway.

The first opportunity will allow NESL to obtain e-Stamp from Inventory Holding Company of India Limited ("SHCIL") by paying the required amount.

The concerned state authorities will pay the applicable stamp duty as per the Stamp Act.

For any non-registerable settlement or contract which relates to monetary credit (lender and debtor) or operational credit (provider and buyer) or other parties to the contract, by using the e-Udbhav portal payment gateway, on payment of Stamp Responsibility Fee Enables digital payments. Within the digital e-stamping ecosystem of NEST. This can be accomplished for any unregistered settlement or credit-related contract.

As soon as an electronic stamp is received, it will be affixed to the contract as the primary page, and the remaining pages of the document will be combined into a single document, which is given to the executor in the form. of the same document.
E-Signing the Settlement
On completion of the previous steps, you will have to proceed for e-sign or electronic signature.

The NESL portal will now receive signatures or e-signatures from the parties sequentially. It will ask for the E mark to the first party, then to the second and then to the third as ordered. without talking to each other or personally to any authority.

The document is based on Aadhaar OTP or Biometric Signature, i.e. Biometric Signature on CDAC website, which is related to NESL or Digital Signature Certificate (DSC).

E-Signing is done by the CDAC website, an organization that works for the Ministry of Electronics and Information and is licensed by the CCA to perform e-Authentication-based e-Sign companies.

Email and SMS notifications are sent to competing parties or other parties to let them know that they need to digitally sign the agreement to complete the execution process.
NESL e-UDBHAVAM Portal Helpline Number
I hope you have got all the information through this article. If you like the article then please like and comment.
Last Updated on September 9, 2022 by Abinash